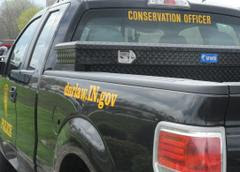 Indiana Conservation Officers are reporting that a 14 year old boy has died as a result of injuries from an ATV accident.
Kaleb S. Poehlein (14) of Winslow lost control of his ATV and hit a small ditch. His ATV went air born, hit a tree and landed upside down.  Poehlein had just passed another ATV operated by Colton L. Wade (15) of Winslow when he lost control. Wade was a witness to the accident, but was not involved or injured.
Multiple 911 calls were received, with the first recorded at 2:41 pm. Poehlein was taken from the scene by ambulance to Memorial Hospital in Jasper The accident occurred on CR 800 East about one mile north of the CR 175 South intersection.
Poehlein was not wearing a helmet at the time of the accident.
Responding agencies included Jefferson Township Fire Department, Pike County Sheriff's Department, Pike County EMS, and Indiana Conservation Officers.