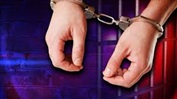 -At 10:39 last night, police investigated a disorderly complaint on Thompson Drive at Mirror Lake.  37 year old Michael Gilbert Wilson of Vincennes was arrested for disorderly conduct.
-18-year-old Marion Young was also arrested last night for disorderly conduct by Vincennes Police.
-A Vincennes man was arrested for a misdemeanor count theft at 15th and Main last night.  26-year-old Christopher E. Anderson was apprehended at 9-pm on the charge.
-35-year-old Hubert Gibson was jailed yesterday on a probation violation out of Knox County.
-The Sheriff's Department arrested John Coy, 54, yesterday for a probation violation.