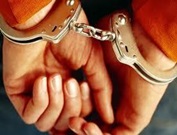 KNOX COUNTY
-Vincennes Police arrested 35-year-old James Bryan on warrants for failure to appear and a parole violation.  He was jailed at 11:34 last night.
-31-year-old Craig Johnson was arrested by Vincennes officers yesterday for public intoxication and criminal trespassing.  He was booked into the Knox County Jail at 6:54-pm.
DAVIESS ARRESTS
-An Elnora woman was jailed yesterday for a petition to revoke a suspended sentence and possession of a legend drug. Erin Dove, 27 was booked into the Daviess County Security Center at 11:09-am.
-42-year-old Joanna Cox of Washington was arrested for battery by Washington City Police.  She was booked in at 9:34 last night.