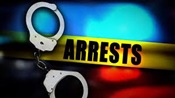 DAVIESS COUNTY
-60-year-old Michael Shipman of Washington was arrested o n an out of county warrant by city police yesterday.  No bond was set.
KNOX COUNTY
-Vincennes police made a traffic stop at 5:20 this morning at St. Clair and Washington Street.  46-year-old Michael S. Morrison was jailed on a Lawrence County warrant for counterfeiting. Also arrested on scene was 36-year-old Chasity Daviess on Knox County warrants and for possession of  paraphernalia and driving while suspended.
-33-year-old Jessica Snyder was booked into the Knox County Jail at 7:30 last night for driving while suspended.
-30-year-old Robert James was arrested by the sheriff's department yesterday for contempt of court.
-24-year-O=old Michelle Arthur was also jailed for contempt of court yesterday morning.
-Dennis Adams, 34 was booked in at 11-am for resisting law enforcement.
=Phillip Brauseur was arrested for driving while suspended.
-26-year-old Brandon Goodman was charged with reckless driving yesterday.
26-year-old Kassie Fields was booked in at noon yesterday for a probation violation.