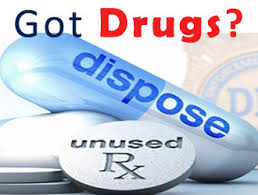 Coming up this Saturday local and federal authorities will hold a drug take back day.  Knox County Law enforcement including Vincennes, Police, Bicknell Police and the Sheriff's Department along with the DEA are offering the free an anonymous service to prevent pill abuse.
You can take expired, unused and unwanted prescription drugs to any of the three departments.  Only pills or patches are accepted.  No liquids or syringes will be taken.  The pills will be accepted at each location from 10 to 2.  The drug take back boxes at each location have been provided by a Partnership for Success Grant through Children And Family Services and the Knox County Coordinating Council.
Last April, Americans turned in 446 tons of prescription drugs at nearly 10,00 sites across the country.
For more information to the DEA Diversion Website.