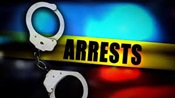 -At 6:30 last night, Vincennes Police arrested Robert J. Henshiwood on 2 writs of attachment. The arrest was made in the 1400 block of Parkinson Street.
-Vincennes police served warrants in the 500 block of South 7th last evening.  56-year-old Dana Lynn Singley was picked up on two failure to appear warrants, both for driving while suspended.  She's was also wanted for possession of meth.
-Two people were booked into the Knox County Jail during the 3-am hour today after being arrested by Bicknell Police.  39-year-old Gary Jackson was charged with operating while intoxicated with a controlled substance, possession of a controlled substance, meth and marijuana.  31-year-old Brandie Chappell was also charged with possession of meth, marijuana and a controlled substance.
-Bicknell Police arrested Shandy Wilson, 36-year-old.  She was jailed at 1:25 am today for public intoxication and contempt of court.
-Charles Kent was arrested by Bicknell Police yesterday for reckless driving and operating while intoxicated.
-The Knox County Sheriff's Department arrested 22 year old Cole Breitweiser for failure to appear yesterday.