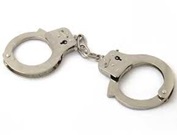 Possession arrests reported in Daviess and Knox Counties
DAVIESS COUNTY
-A Montgomery teen was jailed at just after midnight for possession of marijuana, paraphernalia and alcohol…and for minor consuming.  18-year-old Maxwell J. Craney was arrested by Washington Police. Bond was posted.
-A Wheatland man was arrested by Washington Police on Friday on warrants for failure to appear and for false reporting.  No bond was set for 26-year-old Josh W. Brawdy.
-67-year-old Michael E. Sluder of Washington was booked into the security center at 5:20 last evening for driving while suspended with a prior.  No bond was set.
---
KNOX COUNTY
-Vincennes police made a traffic stop at 15th and Hart at just before 2-am this morning and arrested 53-year-old Todd Siverly of Vincennes.  He was charged with operating while intoxicated with refusal and driving while suspended.  He was also cited for disregarding a light and an unsafe lane change.
-Indiana State Police arrested 20-year-old Brittany Vogt last night.  She's charged with possession of a siring, marijuana and paraphernalia and with maintaining a common nuisance.  She was booked into the Knox County Jail at 10:42 pm.
-State Police arrested 22-year-old Shawn Campbell for driving while suspended.  She was jailed at 11:22 last night.
-28-year-old Mathew Gandy was arrested on a felony count of operating a vehicle while intoxicated.  The arrest made yesterday by the Knox County Sheriff's Department.
-An investigation by Knox County authorities resulted in the arrest of 48-year-old Rhonda Lamorie yesterday.  She's facing a dealing meth charge.  She was jailed at just before 7 last night.
-Friday, Vincennes Police arrested Floyd Lowe, 39-years-old.  She was wanted on a failure to appear warrant.