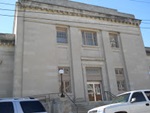 The City of Vincennes has received a 50-thousand dollar grant to help restore windows and masonry at the Vincennes Police Department Headquarters.
The project will include rehabilitating 15 large double hung wooden windows and 20 smaller windows. The project will also assess coping stones and belt stones that may require re-caulking and areas of limestone that require patching or replacement.
The project is being funded by a grant from the U.S. Department of the Interior, National Park Service's Historic Preservation fund.
The building which previously housed the former post office in Vincennes was purchased by the city in 2000 and the police department has occupied it since that time.