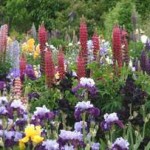 Edith E. Ruble, 86, of Oaktown, IN, passed away September 18, 2016, at Oak Village.
She was a homemaker, and a member of the First Christian Church.
Born December 18, 1929, in Sullivan, IN, she was the daughter of Winfield and Lena (Spoonmore) Turner. Her parents; her husband, William D. Ruble; a sister, Mary Turner; and a brother, Norman Turner, preceded her.
Surviving are her children, Larry McKinney and his wife, Rose, of Hardinsburg, IN, Shirley Devlin of Vincennes, IN, and Kathy Allen of Bicknell, IN; a sister, Eilene Kirk; brothers, Paul, Gene, Robert, Merle, and Jim Turner; grandchildren, Kevin, Steve, Mike, Billy, Scott, and Larry David McKinney, Angela Dawn Cordero, Kari Snyder, Elizabeth Ragain, Donald and Richard Hanger, Troy McKinney, Thomas P. Devlin, Jr., Melissa J. Devlin, Nicole Lynn Graff, Joshua McKinney, Kayla Mize, and James A. Freeman III; and several great-grandchildren and great-great-grandchildren.
Friends may visit with the family from 12:00 – 1:00 on Wednesday at Goodwin Funeral Home. A graveside service will follow at 1:30 at Memorial Park Cemetery.
Online condolences may be sent to the family through goodwinfamilyfh.com.