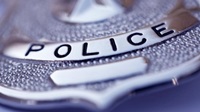 A weapons offense investigation and drug arrests made last night.
-At 12:30-am today Vincennes police were called to 415 north 2nd to investigate a weapons offense.  Arrested was 29-year-old Darryl D. Anderson for possession of a handgun without a permit and possession of a handgun by a serious violent felon.
-Vincennes Police arrested two people following a drug investigation Monday night.  Officers went to a residence in the 26-hundred block of Main Street around 9:20 pm.    Arrested were 27-year-old Amy Leeann Archer of Vincennes was booked into the Knox County Jail on charges of maintaining a common nuisance, possession of a legend drug and neglect of a dependent.    33-year-old Jerald Coffman was arrested for visiting a common nuisance and possession of a controlled substance.
The department of child services assisted in the investigation.
-A Vincennes man was taken into custody after police responded to a report of criminal mischief.  Around 3:15 pm Monday police went to the 1600 block of East St. Clair Street where they located 21-year-old Adam Ray Manners.  He was booked into the Knox County Jail on charges of criminal mischief and possession of drug paraphernailia.