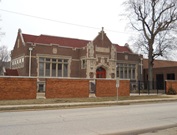 Library users utilizing the new teen area.
The teen department was moved downstairs while renovations were taking place in the Carnegie portion of the Library. Jordan Ellerman. Young Adult Services manager says the Teen Department now have their own exclusive area.


Ellerman say they also have a designated area with 8 computers for teens to do their home work or play games on. They've also uncovered a bit of history down in the basement as well. A small stage that was built back when the library opened in 1919 has reopened and can be used for guest speakers and musicians.. The walls of the teen center have painted a neutral color so Ellerman can switch out posters and signs to give the teen center a more vibrant look. All of the renovations were paid for with monies from the Library's reserve fund.