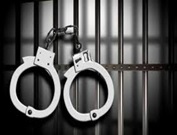 Various incidents lead to jail time for several over the weekend.
-A man was jailed after a police standoff in Vincennes that ended peacefully.  It happened Sunday afternoon at 1302 Main where police say they were called to the home where 53-year-old Daniel Murphy had threatened to kill a woman in the home.  Murphy was eventually arrested for intimidation while his daughter, Eryca Murphy, 27, was jailed for resisting law enforcement after crossing a police barricade.
-An incident last night at 815 State Street in Vincennes resulted in the arrest of 40-year-old Erika D. Hillyard. Vincennes Police say she's charged with battery in the presence of a child and criminal confinement.  The arrest took place at 11:02-pm.
 -Sunday, Vincennes Police Arrested 23-year-old Joesph Olfrand of Vincennes for resisting law enforcement and disorderly conduct. Bond was set at 4-thousand dollars.
39-year-old Chanord Sago of Vincennes was arrested by State Police Friday night for being a Habitual Traffic Offender.
40-year-old Paul Siddall was arrested on a charge of battery by Vincennes Police Sunday and booked into the Knox County Jail on 4-thousand dollars bond..
-Vincennes police were called to Wal-Mart at 6:30 Friday night where they arrested two people in an investigation. 26-year-old Jeremy S. Griggs  was charged with possession of syringes and carrying a handgun without a permit.  He was also arrested on a warrant for failure to appear for synthetic drug possession. 27-year-old Adam J. Barmes was charged with possession of meth, and syringes and a controlled substance and with trafficking with inmates