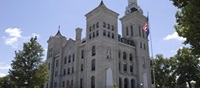 The Knox County Council is scheduled to reconvene budget negotiations tomorrow night at the courthouse. 
Council members recessed their budget session last week in order to resolve funding issues with the General Fund Budget.
Council President Bob Lechner says there is a a structural deficit in General Fund account. The deficit is due to a reduction in property tax revenue from the state's property tax caps. To make up for the deficit, Lechner says the Council is looking at other funding revenues within the county's budget. . Those other sources may include the Economic Development Income Tax, as well as the County Option Income Tax.