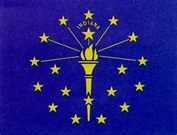 Ceremony set for start of Indiana Bicentennial Torch Relay…ITT Tech shutters campuses after federal aid sanctions…
Indiana makes deal expected to expand rural broadband access.
BICENTENNIAL TORCH
A celebration marking the start of the Indiana Bicentennial Torch Relay is set for the small town that was the state's first capital.
Organizers say the torch will be lit during Friday's ceremony on the grounds of the original state capital building in the southern Indiana town of Corydon (KOHR'-eh-duhn).
The relay with some 2,000 torchbearers is set to travel more than 3,200 miles through Indiana's 92 counties and 260 cities and towns before ending Oct. 15 at the Statehouse in Indianapolis.
Scheduled speakers at the torch ceremony include Indiana Gov. Mike Pence and former Indiana first lady Judy O'Bannon, whose late husband, Gov. Frank O'Bannon, was a Corydon native.
Indiana marks its 200th anniversary of becoming the nation's 19th state on Dec. 11.
---
BROADBAND SERVICE
Indiana Gov. Mike Pence's office is finalizing plans that will expand rural high-speed Internet access in the coming years.
A preliminary agreement with Agile Networks will lease out state-owned cellphone towers for the next 25 years. That will bring in $50 million upfront — and potentially millions more in the years to come.
The company will build out the cellphone towers in the first phase of the project. That is expected to bring broadband to a large swath of southern Indiana that did not have access over the next year-and-a-half.
Remaining areas without broadband are projected to get access in the years that follow.
The Pence administration will use money offered upfront to pay for state bicentennial celebration projects.
---
ITT SHUTS DOWN
The for-profit college chain ITT Educational Services is shutting down its campuses days after the U.S. Department of Education banned it from enrolling new students who use federal financial aid.
The company, which operates vocational schools, announced "with profound regret" in a statement Tuesday that it is ending academic operations at all of its more than 130 campuses across 38 states.
The company, based in Carmel, Indiana, says its move will have an impact on hundreds of thousands of students and alumni as well as more than 8,000 employees.
ITT Educational Services says it was forced to take the action after the U.S. Department of Education issued sanctions Aug. 25, including a ban on enrolling new students who rely on federal financial aid.
---