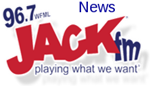 Investigations lead to arrests, mold found in South Knox School classrooms, Mike Pence opens Trump campaign office in Indy.
-At 2:35 yesterday afternoon, 41-year-old Christopher C. Robinson of Vincennes was arrested for driving while suspended and having no proof of insurance, an expired registration and false plates. The arrest took place at 6-West Reel Avenue in Vincennes.
-Vincennes police responded to a report of a family fight on North 3rd at 5:39-pm yesterday. 46-year-old Vernon Joseph Carie II was jailed for domestic battery, battery and invasion of privacy.
---
TIRE RECYCLE DAY
The Knox County Solid Waste Management District will be hosting a Tire Recycling Day today (Saturday) from 9 am to 1 pm at the Knox County Highway Department Garage.There will be a small fee charged to get rid of the tires. The fee for passenger tires is 2-dollars apiece and 7-dollars for semi-tires. The cost for disposing of tractor tires will vary. Cash or checks will be accepted, though cash is preferred. The tire disposal day is open to Knox County residents only. I-D;s will be checked at the drop-off site.
---
SOUTH KNOX MOLD
South Knox School Superintendent Tim Grove has sent a letter out to parents addressing concerns about mold in the school corporations buildings. Grove indicated that the school corporation's custodial staff is taking steps to address the issue including cleaning classrooms with anti-fungal solutions, cleaning heating and air conditioning coils and using air scrubbers to help remove any potential airborne spores. Grove noted that the mold has not been widespread throughout both buildings but has been isolated to some of the classrooms. He indicated that the State Department of Health has been notified and arrangements have been made to have both buildings inspected and tested for the presence of mold. In conversations with State Officials, Grove was informed that due to the abnormal weather pattern this summer several other schools around the state have had issues with mold.
---
HEROINE OVERDOSES
Officials in several states are scrambling to deal with a series of heroin overdose outbreaks affecting dozens of people and involving at least six deaths. The spikes in Indiana, Kentucky, Ohio and West Virginia over the past few days have seen rescue workers rushing from scene to scene to provide overdose antidote drugs. It's unclear if one dealer or batch is responsible for the multistate outbreak. But the spikes reflect the potency of heroin now flooding the Midwest. Police in Cincinnati on Friday asked for the public's help in identifying the source of the heroin behind an estimated 78 overdoses in two days. One person died in Mount Sterling, Kentucky, following a series of 12 heroin overdoses within hours of each other on Wednesday.
---
ABORTION PROVIDER COMPLAINT
The Indiana Medical Licensing Board has suspended the license of a former abortion provider. The Journal Gazette reports that the board suspended 71-year-old Ulrich Klopfer early Friday for six months and issued a $3,000 fine. The board found him guilty of five of nine charges, including one related to late reporting of abortions performed on two girls under the age of 14. Two charges referenced sedation and medical practices, and two others involved state law requiring informed consent 18 hours before the procedure on a handful of women.Klopfer has performed tens of thousands of procedures in Fort Wayne, Gary and South Bend over several decades but isn't currently practicing. All three of his abortion clinics have closed but he told the panel he wants to reopen.
---
PENCE OPENS TRUMP OFFICE
Mike Pence made a stop near Indianapolis to open the only Donald Trump presidential campaign office in the Indiana governor's home state. The office in a suburban strip mall was sweltering after an overflow crowd packed into the small space Friday afternoon. Pence told the crowd that he never expected to be a vice presidential candidate The campaign now has three paid staffers in the state. But party officials say they have an army of volunteers and also are operating out of the Indiana Republican Party headquarters.
.