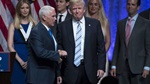 Donald Trump and Mike Pence are said to show up at tonight's fundraiser where tickets are a minimum of $10,000
As the Republican vice presidential nominee, Mike Pence is one part Donald Trump translator, one part happy campaign warrior.
He delights in telling cheering audiences that Trump won't "tiptoe around" the rules of political correctness. He's deliberately avoided or, when pressed, tried to do damage control on most of Trump's recent eyebrow-raising remarks.
The Indiana governor is betting his political future on endearing himself to Republican primary voters who propelled Trump to the GOP nomination while staying true to the conservative values that have shaped his political career.
Pence allies say, so far, he's done a good job staying loyal to his new boss while setting himself up nicely with conservatives for a 2020 bid should Trump lose the White House.
 Trump and Gov. Pence,  were expected to attend a fundraiser together in Evansville tonight. TV station WFIE reported the event is at the home of resident Steve Chancellor. Various sources have reported the cost to get into the private event is a minimum of $10,000. Some were expected to pay the maximum amount, which is $250,000, and includes pictures with the candidates. The event starts at 5:30 p.m.