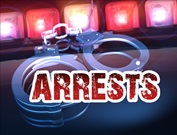 Vincennes City and Bicknell City Police release recent crime reports.
-At 12:33 this morning, police were called to a traffic accident at 1217 North 12th in Vincennes.  There, they arrested Jason Reed for leaving the scene of an accident.
-At just after 9 last night police investigated a theft at 6th and Harrison. James Wesley Birge, 25 of Vincennes was arrested on a charge of theft.  Vincennes police were assisted by the Department of Child Services in the incident.
-Vincennes police arrested a resident wanted on a warrant at 8:40 last night at 623 East St. Claire. 47-year-old Jamie L. Arthur was wanted on a a parole violation and for a petition to revoke a suspended sentence.
-At 7:11 last night, police went to 520 south 7th where they took 36-year-old Thasha Collins into custody on warrants for burglary, theft, theft with a a prior conviction, interference in reporting a crime, impersonating a public servant and battery.  Again, all the charges stem from warrants.
A Bicknell man is facing multiple charges including battery on a police officer. 34-year-old Timothy Mahan was arrested following a domestic dispute last night. He was booked into the Knox County Jail charged with one count of Domestic Battery, Battery on a Police officer, resisting law enforcement and operating a motor vehicle while intoxicated. Mahan is being held without bond pending an initial court appearance.
>>>>>
36-year-old Brandon Mincey of Bicknell was arrested yesterday for possession of marijuana. Bicknell Police say Mincey is charged with growing pot in an amount less than 30 grams. He is being held on 4-thousand dollars bond at the Knox County Jail.