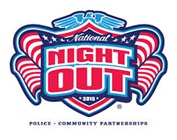 Vincennes Police Department hosted National Night Out Tuesday.
The function held at  Rainbow Beach Aquatic Center give the public a chance to interact with police in posiitive light. Hundreds of adults and children splashed in the pool and snacked on hot dogs and chips for free.
Police Chief Dusty Luking was happy with the turnout….
The 4th annual event also featured a k9 demonstration and giveaways such as bikes and car seats. For the first time at National Night Out, Indiana Conservation swimmers allowed kids to experience underwater swimming with breathing apparatuses.