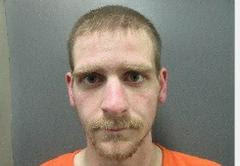 A wanted man escaped police after a pursuit in Sullivan County.
State Trooper Brad Miller saw a vehicle driven by 25-year-old Dakota Ray Montgomery of Farmersburg.  Miller knew he was wanted on a warrant for a probation violation and attempted a traffic stop when Montgomery fled. He led the trooper in a chase from from US 41 to State Road 48 near Sullivan County Roads 950-north and 300-east.  Montgomery then stopped and ran away on foot.
Multiple troopers, Sullivan County officers and k9 units from Clay County along with Jasonville Police and the Vigo County EMA's drone searched until about 9:25 last night and then called off the manhunt. Montgomery remains at large.