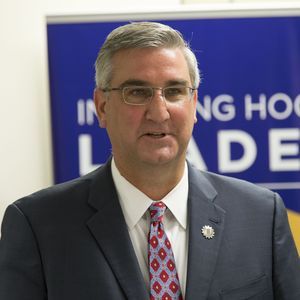 Lieutenant Governor Eric Holcomb is Republicans' new nominee for governor. (Photo from Indianapolis Star)
Party leaders selected Holcomb over U-S Representatives Susan Brooks and Todd Rokita and Wadesville State Senator Jim Tomes to fill the vacancy created by Mike Pence's nomination for vice president.
State Republican Chairman Jeff Cardwell declined to release vote totals, but former Fort Wayne City Councilman Mitch Harper said on Twitter that Holcomb came within one vote of the necessary 12 votes on the first ballot, then won the nomination on the second.
Holcomb says he'll be running on Pence's record, and that of Mitch Daniels, for whom he was deputy chief of staff. He says he'll contrast those years with Democratic nominee John Gregg's years as House speaker, declaring Indiana "cannot slip and drift and go backwards to those days of debt and delayed payments to schools."
Gregg released a statement welcoming the opportunity to link Holcomb to Pence, charging Holcomb "embraced the failed approach that embarrassed our state and cost us jobs."
Brooks and Rokita say they'll seek reinstatement on the congressional ballot by caucuses of precinct leaders in their districts. Both rule out serving as Holcomb's running mate. Holcomb's expected to announce his choice this week.