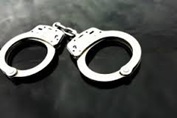 Domestic and alcohol arrests reported by local police.
-Vincennes police investigated a family fight call at 12:30pm Sunday afternoon.  46-year-old Allan Boover was arrested for domestic battery in the incident on North 14th.
-A Bicknell man was jailed on Sunday for operating while intoxication. Bond for Christopher Small, 38, was set at $4000.  The arrest made by Bicknell Police.
-At 11 on Saturday night, police were called to 2724 Washington Avenue to a report of a man who was allegedly intoxicated. Mark E. Hand was located and arrested for public intoxication.
-Saturday, 22-year-old Chandler Anthony Bouillet of Vincennes was arrested by Sheriff's officials for operating while intoxicated. Bond was set at $4000.
-41-year-old Jeremy Bernard Roach of Washington was arrested on Saturday in Knox County for driving while suspended.  No bond was set.