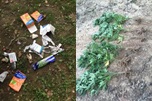 What started as a local drug investigation in Perry County ended with criminal cases and arrests in multiple states.

On Tuesday, July 12, Master Trooper Trey Lytton and Tell City Police Officer Bryce Hammack received information into possible drug activity and began an investigation. On Friday, July 15, after obtaining enough probable cause, Lytton and Hammack received a search warrant through the Perry County Circuit Court to search the home at 1618 Main Street in Tell City.
While executing the search warrant, officers found methamphetamine, marijuana, hypodermic needles, and numerous drug paraphernalia items. A scooter that had been reported as stolen to the Tell City Police was also found. Four individuals living in the residence, including a 17 year old juvenile, were arrested.
As the investigation continued, Lytton learned of a possible methamphetamine lab and marijuana grow in Hancock County, Kentucky. Lytton worked with Hancock County Deputy Aaron Emmick, and obtained a search warrant for the Kentucky residence. Items and precursors involved in manufacturing methamphetamine, as well as marijuana plants, were found in the residence. On Tuesday, July 19, Hancock County arrested both suspects connected to the Kentucky investigation.
The case remains under investigation with additional arrests possible.
Arrested and Charges: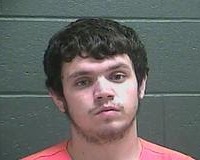 Dakota W. Rock, 20
1618 Main Street, Tell City, IN
– Possession of Methamphetamine, Level 6 Felony
– Maintaining a Common Nuisance, Level 6 Felony
– Possession of a Hypodermic Syringe (3 Counts), Level 6 Felony
– Receiving Stolen Property, Class A Misdemeanor
– Possession of Paraphernalia, Class C Misdemeanor
– Possession of Marijuana, Class B Misdemeanor
– Illegal Possession of Alcohol, Class C Misdemeanor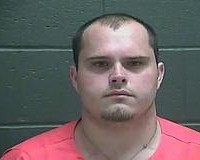 Thomas L. Hubert, 27
1618 Main Street, Tell City, IN
– Possession of Methamphetamine, Level 6 Felony
– Maintaining a Common Nuisance, Level 6 Felony
– Possession of a Hypodermic Syringe (3 Counts), Level 6 Felony
– Receiving Stolen Property, Class A Misdemeanor
– Possession of Paraphernalia, Class C Misdemeanor
– Possession of Marijuana, Class B Misdemeanor
17 Year Old Juvenile (photo unavilable)
Tell City, IN
– Possession of Methamphetamine, Level 6 Felony
– Maintaining a Common Nuisance, Level 6 Felony
– Possession of a Hypodermic Syringe (3 Counts), Level 6 Felony
– Receiving Stolen Property, Class A Misdemeanor
– Possession of Paraphernalia, Class C Misdemeanor
– Possession of Marijuana, Class B Misdemeanor
Michael W. Faucet, 21 (photo unavilable)
1680 Tell Street, Tell City, IN
– Possession of Paraphernalia, Class C Misdemeanor