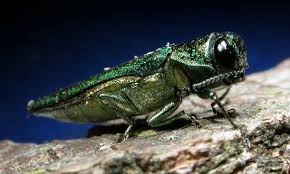 The emerald ash borer has been detected for the first time in Gibson and Vanderburgh counties.

Visual survey of ash trees found the invasive insect that kills ash trees in Pigeon Township in Vanderburgh County, and in Patoka Township in Gibson County.
Of Indiana's 92 counties, 88 have now detected EAB. Emerald ash borer has not been found in Benton, Fountain, Vermillion and Warren counties in west-central Indiana.
The DNR is in the process of removing the EAB quarantine, which regulated the movement of ash wood and firewood of any hardwood species with the bark attached. While the quarantine helped slow the spread of EAB, it is no longer an effective tool.
EAB first arrived in Indiana in 2004.
Moving firewood spreads forest pests. Visitors to DNR properties may only bring in firewood if it is certified by the USDA or DNR Division of Entomology & Plant Pathology, or is free of bark.
For more information on EAB, or to report an infestation, visit eabindiana.info or call Indiana DNR's toll-free hotline at 1-866-NO EXOTIC (663-9684). To view the DNR's EAB information page visit dnr.IN.gov/entomolo/3443.htm.