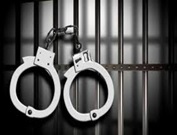 Drug arrest  made Tuesday…
A Vincennes man is in custody on drug related charges. Vincennes Police arrested 26-year-old Justin Young Tuesday for possession of marijuana, possession of a controlled substance and paraphernailia. He's being held in the Knox County Jail pending his initial court appearance.
>>>>>>
An Oaktown man was arrested by Bicknell Police following a traffic stop yesterday. 27-Year-old Jamie Hamilton is being held in the Knox County Jail charged with driving while intoxicated and refusal to submit to a blood alcohol test. Hamilton's bond is set at 5-thousand dollars.
>>>>>
21-year-old Keith McIntosh Jr of Vincennes was arrested by Vincennes Police Tuesday. He was wanted on a failure to appear warrant and is being held without bond at the Knox County Jail. .