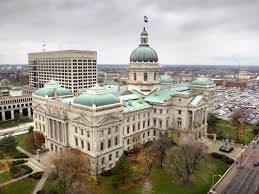 INDIANAPOLIS (AP) – Indiana residents buying vehicles will have 14 extra days to get their titles and plates beginning Friday. Indiana Secretary of State Connie Lawson says the paper interim plates or temporary tags issued by auto dealers will be valid for 45 days instead of the current 31. She said Tuesday that automobile dealers will have 31 days after the sale date to deliver a title.
SOUTH BEND, Ind. (AP) — Democratic state Rep. Pat Bauer has retired from his role as an administrator for the state's community college system. The South Bend Tribune reports his retirement was mentioned by incoming Ivy Tech president and Lt. Gov. Sue Ellspermann during a visit to Ivy Tech's South Bend campus. The former state House speaker had worked for Ivy Tech since 2001. He was first elected to the Indiana General Assembly in 1970.
INDIANAPOLIS (AP) – A federal judge in Indiana has sentenced a British man to 85-years in prison on child pornography charges. U.S. District Judge William T. Lawrence sentenced Domminich Shaw of London on Tuesday. Shaw pleaded guilty last year. He was indicted in Indianapolis in 2011 and extradited from the United Kingdom in 2014. Prosecutors say Shaw administered a website containing pornography involving infants and toddlers.
SOUTH BEND, Ind. (AP) — The University of Notre Dame is working on plans to generate electricity for the campus from a downtown South Bend dam. A memorandum of understanding between city and university officials calls for Notre Dame to pay for construction of the dam along the St. Joseph River. Notre Dame hopes to start construction next spring on the project to meet 7 percent of current campus electrical needs.
INDIANAPOLIS (AP) — Indiana's GOP-controlled Legislature approved dozens of new laws during this year's legislative session, many of which are set to take effect on July 1. The measures affect everything from the use of police body cameras, to the burgeoning vaping industry, which will face new regulations that critics say are intended to stifle competition. One law will make it easier for pharmacists to turn away customers who want to purchase over the counter cold medicine used to make meth.
INDIANAPOLIS (AP) — The Indiana Democratic Party has lodged a complaint with Federal Communications Commission over TV ads attacking Democratic gubernatorial candidate John Gregg. The complaint sent Tuesday focuses on a technicality in FCC rules that Democrats argue the Republican Governors Association did not comply with when producing the ads. Both ads feature a narrator who states that the RGA is responsible for the content. But Democrats say they are also required to put that disclaimer in text that also appears on screen. They are asking the FCC to issue a fine and are requesting the RGA take down the ads. RGA spokesman Jon Thompson said the organization stands by its ads. He called the Democrat's complaint a "desperate" attempt to mislead voters.
INDIANAPOLIS (AP) – Indiana Attorney General Greg Zoeller says an estimated 6,600 Volkswagen customers in Indiana will be eligible for monetary compensation and the option to have their vehicles bought back or modified to reduce emissions after the automaker settled allegations of emissions fraud. He said Tuesday that total restitution to Indiana customers could reach $66 million under a joint state-federal agreement with Volkswagen. Models covered by the settlement include the 2009-2015 Jetta and Audi A3, the 2010-2015 Golf, and the 2012-2015 Beetle and Passat, all with 2-liter diesel engines. The agreement also requires Volkswagen to pay nearly $570 million for violating state laws prohibiting unfair or deceptive trade practices when it marketed, sold and leased diesel vehicles equipped with software intended to circumvent air pollution emissions standards.