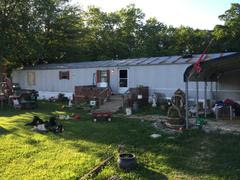 Monday night, Indiana State Police Meth Suppression Troopers from the Putnamville Post served a Sullivan County search warrant on a residence at 1837 East County Road 500 South near Carlisle, IN. During a search of the mobile home, troopers located less than one gram of methamphetamine, numerous items associated with the manufacturing of methamphetamine, and assorted items of paraphernalia. Arrested were David Mize, 38 and Emily Mize, 37. They were charged with Manufacturing Meth; Possession of Meth; Possession of Precursors; Dumping a Controlled Waste; Maintaining a Common Nuisance; Possession of Paraphernalia; and Neglect of a Dependent (two counts).
Both are being held in the Sullivan County Jail. Their two children, ages 4 and 14, were found in the home and released to Sullivan County Child Protective Services.
Pictured is the home of the Mizes' from Indiana State Police.