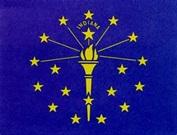 Purdue University alumnus Scott Tingle plans to take Purdue items with him into space when he takes part in missions to the International Space Station next year and in 2018.

The (Lafayette) Journal and Courier reports (http://on.jconline.com/28KvHX2) university officials will specially select the items. They'll include a medal named after alumnus Neil Armstrong, two mechanical engineering photos and a Zucrow Laboratories scroll banner.
Armstrong was the first person to walk on the moon in 1969. He graduated from Purdue in 1955. The medal will go on display in Purdue's Neil Armstrong Hall of Engineering when Tingle returns.
Tingle graduated from Purdue in 1988 and is the school's 23rd student to become an astronaut.
________________________________________________________________
INDIANAPOLIS (AP) — A Democratic state lawmaker from Indianapolis plans a news conference to talk about an Indiana man arrested in California for having an assault rifle and explosives.
James Howell was charged last week after a police found a loaded assault rifle with magazines rigged to allow 60 shots to be fired in quick succession, along with 15 pounds of chemicals mixed and ready to explode. Howell said he was headed to a gay pride event.
Indiana state Rep. Ed Delaney says in a news release that he plans a Tuesday morning news conference outside the Indiana Statehouse to discuss the case. DeLaney says the state "must protect its own citizens from military-grade weapons" because of the lack of action on the issue in Washington.
_________________________________________________________________
ELKHART, Ind. (AP) — A riverboat that for years carried passengers on a northern Indiana river until it developed a leak is headed back to the water.
The Elkhart Truth reports (http://bit.ly/28Jh1t5 ) that the Elkhart River Queen is scheduled to be hoisted back into the St. Joseph River by a crane on Tuesday after months of fundraising and repairs. Save the Queen group project manager Tom Shoff says the hull, which had rusted through in spots, is fixed after the group raised $75,000 for repairs.
Shoff says the nonprofit group is continuing to raise money to repair the outside top deck of the ship. He says those repairs will cost about $25,000. He says the River Queen will make its public return as part of the St. Joseph River Flotilla on July 3.