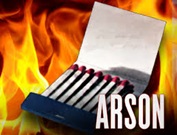 Vincennes Fire Chief Sonny Pinkstaff says a fire early Tuesday morning at 710 North 11th Street was deliberately set. 
Firefighters were called to the scene around 1 am Tuesday. Pinkstaff says the house was fully engulfed in flames when firefighters rolled up on the scene.
A reward of 50-thousand dollars is being offered for information leading to the person or persons responsible for setting the fire. Pinkstaff says they can call either the Vincennes Fire or Police Departments or the Arson Tip-Line at 1-800-382-4628.
Pinkstaff says Adam Ray, a Vincennes Firefighter suffered an injury while battling the blaze. Ray was taken to Good Samaratin Hospital for a fracture to his right leg. Heat from the fire caused structure damage to adjoining houses on each side of the burning home. Pinkstaff says the house was vacant and was on the city's list of blighted homes scheduled to be demolished.