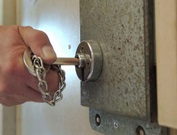 Arrests made for battery and residential entry..
-The Knox County Sheriff's Department responded to a report of a domestic disturbance in Monroe City this morning. 44-year-old Tracy Madison was taken into custody. She was booked into the Knox County Jail charged with one count of battery. Madison's bond was set at 3-thousand dollars.
-Vincennes Police went to 1st and Minneapolis last evening and arrested 26-yaer-old Eric McCarter.  He was wanted on a warrant from Knox County Superior Court 2 for domestic battery.
– Vincennes Police responded to a report of suspicious activity in the 1600 block of Busseron Street around 1:40 this afternoon. Police arrested 47 year old Timothy Brown III on a charge of Residential Entry. Police say Brown was also wanted on a Knox County warrant for Failure to appear.