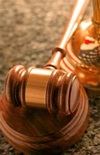 The 16 year old who allegedly attacked a teacher has been waived to adult status
The teen accused of battering a teacher at Lincoln High School earlier this month appeared in court Friday.  16-year-old Donovan Davis was waived to adult status and was officially charged with robbery resulting in serious bodily injury to someone other than the defendant, as well as aggravated battery knowingly inflicting injury that creates a substantial risk of death.  Both charges are felonies.
On May 11th police were dispatched to Lincoln High School at 4:30-pm, where a female teacher had been assaulted and was found badly beaten and semi conscious.
After his initial court appearance, Davis was taken to the Knox County Jail and bond was set at $50,000. The victim in the incident continues to recover from the injuries suffered in the attack.