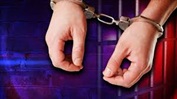 Local police report possession, trespassing and theft arrests.
-Vincennes police conducted an investigation in the 700 block of North 2nd at 8 last night.  22-year-old Billy Lynn Taylor Junior was arrested for possession of meth, paraphernalia and marijuana.  He was also cited for driving with no insurance and false license plates.
-A Monroe City resident was arrested at Autumn Ridge Lane in Vincennes at 11:25 last night. 26-year-old Brent Banta was charged with criminal trespass.
-A local man was arrested at the Washington Avenue Hucks store at 1:20 this morning.  38-year old Donald Lee York of Vincennes was charged with Level 6 Felony Theft and on a Lawrence County, Illinois warrant.