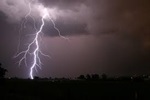 Win Energy reported 5200 customers without power at one point.
There were severe storms throughout southwest Indiana resulting in multiple thunderstorm and tornado warnings last night.
The storms swept through the WIN Energy REMC service area around 6:30 pm EDT. Initially, ten substations were out of power affecting about 5,200 members at one point. Crews worked through the night and as of 6:00 a.m. Thursday morning, approximately 75 WIN Energy REMC members in Knox County are without power. All outages in other counties have been restored.
Crews continue to work to restore power in Knox County. Restoration is slow due to the extent of damage.   Win Energy says for updates and to report an outage please call the Outage Express system at 888-456-9876.
Area law enforcement in Daviess, Knox, and Pike Counties reported no major problems due to storms other than the power outages and there are trees in various places.  The worst storm seemed to have been in the Gibson, Warrick and Vanderburgh County areas where those county lines meet.  There was a reported of a tornado there that did damage.