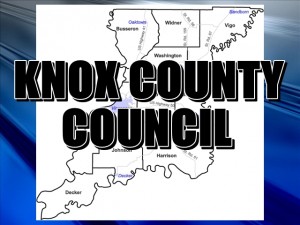 What to do with state allocated road money, an update on tax abatement, a request to replace a weather warning siren and updating the EDIT plan were topics of interest at this month's county council meeting.
ROADS
 Knox County has received additional dollars from the state for road repairs. The county will receive 1-point-3 million dollars. 75-percent of those monies must be spent on road work while the other 25-percent can be used for other purposes. Council Members voted to place over 1-million dollars in a special distribution account while the remaining 25-percent will go to help shore up the county general fund. Councilwoman Nichole Like indicated that the county has taken some hits to the general fund due to property tax caps enacted by the Indiana General Assembly several years ago.
ABATEMENTS
Knox County has benefited greatly from tax abatements awarded to businesses locating in the county. Last night, members of the County reviewed statements of benefits filed on behalf of Duke Energy, Futaba, Farbest Foods and JFS Milling. In the case of Farbest, Council President Bob Lechner says the Turkey Processing plant actually hired 112 more workers than what they originally proposed in their statement of benefits. Likewise, JFS Milling employs 25 workers with a payroll almost double what they initially proposed. Lechner says some people are under the misconception that when a business receives a tax abatement they aren't paying any taxes at all. But in reality, the taxes are phased in gradually over a period of 5-to-10 years.
 EDIT PLAN
The Knox County Commissioners have invited members of the County Council to a work session to begin work on the county's EDIT plan. Commission President Larry Holscher says the current plans is due to expire at the end of this year. The County's Economic Development Income Tax revenue is used for infrastructure improvements including roads and buildings. Holscher says over the past two years they've been able to pave 50 miles of road and they would like to continue that work. No date was set…the council's attorney Drew Porter was asked to set-up a date with county attorney Dale Webster.
WARNING SIREN
Knox County Emergency Management Agency Director John Streeter appeared before the county council last night looking to replace one of the county's warning sirens. Streeter says the siren which was located on the Decker Fire Station was destroyed after being torn from its mounting by winds clocked at 60 miles per hour during a severe storm on April 6th. Streeter sought a transfer of 63-hundred dollars within his budget to pay for a replacement siren. He anticipates receiving an insurance check for 13-hundred dollars to cover part of the cost. Once the money is received it will go back in the emergency management agency's account.