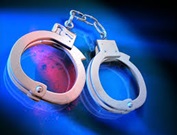 -A Vincennes man was jailed for being a habitual traffic offender early yesterday morning.  31-year-old Michael Rusty Snider was stopped at 1:30-am on the 800 block of St. Clair and taken into custody.
-Also at 1:30 on Monday morning, 36-year-old Richard S. Henry was arrested on a felony count of intimidation and misdemeanor counts of public intoxication and disorderly conduct.  The arrest took place in the 100 block of 9th Street.
-At 2:15 am yesterday, Vincennes police went to 1019 Broadway where they arrested 46-year-old Allan Boover and 30-year-old Abigail Boover. Both were wanted for possession of a syringe.