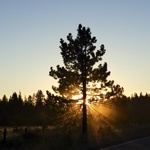 Billie Jean Hatton, 78, of Vincennes, passed away at

5:08 am

Saturday, April 2, 2016 at Good Samaritan Hospital.
She was born September 30, 1937 in Vincennes to William and Ada Deisher.
Billie Jean was a homemaker and enjoyed her family.
Surviving are her children, Doug (Kim) Hatton of Vincennes, David (Angie) Hatton of Vincennes, and Debra Reeves of Vincennes; her sister, Betty Pahmeier of Vincennes; her grandchildren, Justin, Dustin, and Nathan Hatton, Rebecca Reeves, and Heather (Neal) Gough; and a great grandchild, Camden Gough.
She was preceded in death by her parents, he husband, John O. Hatton, preceding her on September 1, 2015; and a great grandchild, Eden Gough.
Graveside services will be held at

11:00am

Tuesday, April 5, 2016 at Royal Oak Cemetery with Brent Cramer officiating. Online condolences may be made at
www.goodwinfamilyfh.com