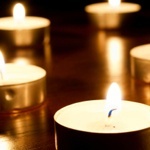 Edna Lee (Thomas) Miller, 83, Vincennes, passed away Thursday, March 31, 2016 at The New Willow Manor. Edna was born October 31, 1932, in Vincennes, the daughter of James and Hazel (Miller) Thomas. She married John Miller on April 5, 1953, and he preceded her in death. Edna worked for Tresslar's and was a teacher's aide at Tecumseh Harrison Elementary School. She was a member of the Bethlehem General Baptist Church.
Edna is survived by her daughter, Beverly (John) Balthus of Vincennes; two step-grandchildren; five step-great-grandchildren; and brother, James Thomas of Vincennes.
She was preceded in death by her parents; husband, John, in May 1992; son, Michael Miller; daughter, Hazel Ann Miller; twin brother, Ed Thomas; and sister, Betty Edwards.
The family will receive friends on Monday, April 4, 2016 from 4:00 PM to 7:00 PM at Fredrick and Son McClure-Utt Funeral Home Vincennes Chapel, 313 Church St. Funeral services will be held on Tuesday, April 5, 2016 at 10:00 AM also at the funeral home with Rev. Pete White officiating. She will be laid to rest at Fairview Cemetery. Memorial contributions may be made to Alzheimer's Association, PO Box 96011, Washington, DC 20090-6011. Online condolences may be made at www.fredrickandson.com.