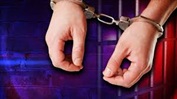 -At 7:30 last night, Vincennes police were called to Wal Mart where Robert J. Catt was arrested for theft.  Arrest stems from an alleged shoplifting incident.
-Vincennes police served an arrest warrant at 1312 Oak Street at 10:55 last night.  38-year-old Maurice K. Cobb of Vincennes was wanted for burglary and battery. Both are felonies.  He was booked into the Knox County Jail.
-A traffic stop at just before 11-pm at US 50 and Hillcrest Road resulted in the arrest of 25 year old Nicholas Tyler Anthis of Vincennes.  He was arrested on an Indiana Department of Corrections Parole Violation warrant, on a Lawrence County, Illinois warrant failure to appear for dangerous drugs and on a Crawford County, Illinois warrant for failure to appear driving while suspended with a prior and possession of a syringe.  Also arrested on scene was 37-year-old Kendra L. (Arnold) Hamm of Vincennes.  She's charged with possession of a legend drug and marijuana.  Vincennes Police were assisted in the incident by the Knox County Sheriff's Department.
-34-year-old Candida Marie Richie of Vincennes was arrested on Wednesday for failure to appear.
-26-year-old Andrew Paul Watts of Vincennes was arrestd by Vincennes Police on Wednesday for auto theft. Bond was set at $5000.
33-year-old Michael Andrew Tripp of Vincennes was arrested by Deputies on Wednesday for a writ of attachment.
40-year-old Jason Lloyd Wingler of Bicknell was jailed on Wednesday for battery resulting in bodily injury.  Bond was set at $4000.