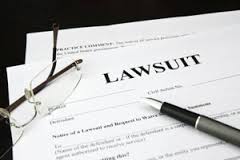 The Knox County Commissioners are being sued by a former County Highway worker for wrongful termination.
Former County Highway employee Zane McCrary filed the lawsuit last week in U.S. District Court. The lawsuit alleges that McCrary was dismissed for doing work on a non-county road used by Commission member Larry Holscher in his farming operation.
Holscher says the road is not private.
McCrary claims in the lawsuit that he turned in a time sheet indicating the time spent performing the work assigned by a supervisor for Holscher. The lawsuit goes on to say that he was later called in
to a meeting with Holscher and was subsequently suspended for making false accusations against a supervisor and commissioner about an existing road.
Holscher claims the termination stems from something else.
McCrary is suing the commissioners individually and as a group in the case, as part of the Federal Whistleblower Act.