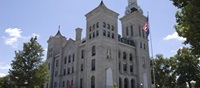 KNOX COMMISSIONERS FEASIBILITY STUDY
"Realistically three to four weeks."
Thats how much longer architect Andy Myszack says it will take to complete a feasbility study of County owned buildings.
Myszack told the Knox County Commissioners Monday they still have to inspect the County Jail as well as few more floors in the Knox Count Courthouse
So far, Myszack says they've gone through more than half of the buildings, but the process takes time.
The County Clerk's Office is most eager for the study to be completed.
They are continuing to struggle with moving heavy documents manually.
Myszack says he is hoping to be done with the project by the Commissioners April 18th meeting.
KNOX COMMISSIONERS UNSAFE BUILDINGS
The Knox County Commissioners are considering adopting an unsafe building ordinance.
A company has been hired to begin assessing potential sites.
The Southern Indiana Development Commission is administering the five hundred thousand dollar Brownfield grant that was awarded through the Environmental Protection Agency to fund the assessments.
County attorney Dale Webster says assessing these potential properties can get complicated if owners don't comply.
Webster says originally there were four or five properties that the SIDC felt needed assessed in Knox County.
However, the grant money will only cover the cost of the work.
The Commissioners will decide by their April meeting wether or not to to adopt the ordinance if applicable.