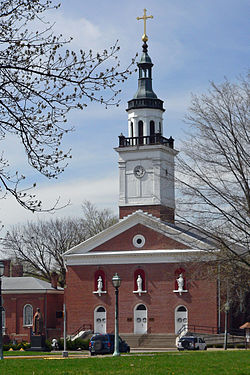 Indiana's first Roman Catholic cathedral will cease to be a parish church this summer.
The pastor for St. Francis Xavier Church in Vincennes says it will remain open but that regular weekend Masses will no longer be celebrated there starting in July as the city's five parishes are combined.
The Rev. Dave Fleck says the church won't be abandoned and will continue to be used for weekday Masses, funerals and weddings.
The St. Francis Xavier Church was built in 1826. It became a cathedral when the Diocese of Indiana was established in 1834 and held that designation until 1898, when it was renamed the Diocese of Indianapolis.
A $1 million restoration of what is known at the Old Cathedral was completed last year.