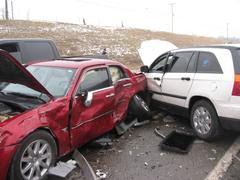 There were no serious injuries after a teen stole a car in Vincennes and drove it to Daviess County, fled from police and was the cause of a four vehicle accident yesterday afternoon.
According to police, 18-year-old Austin Eckes of Vincennes stole a 2009 Ford Ranger from a gas station at 6th and Old Wheatland Road in Vincennes at 4:30pm Monday.  Vincennes police dispatched the stolen vehicle, after which, state police spotted it and tried to stop it on US 50 in Daviess County  Eckes did not stop but sped up to 95 miles and hour and tried to turn left onto State Road 57.
The Ranger then lost control and hit a Chrysler on 57 stopped in the left turn lane south of 50 and driven by 20 year old Klarissa Wright of Petersburg.  Her car was pushed into another Chrysler stopped on 57 in the northbound lane and driven by 63-year-old Joseph Davis of Petersburg.  The car was then pushed into a 2015 Sierra in the right turn lane south of 50 and driven by 29-year-old Anthony Berry of Washington. Berry was not injured; Wright and passenger, 16-year-old Kia Wright also of Petersburg were treated for non life threatening injuries at Daviess Community Hospital.  Davis and his passenger, 55 year old Sandra Davis also of Petersburg also had non life threatening injuries and were treated at the hospital.
Eckes was taken to DCH for a neck injury, released and then jailed in Knox County for resisting law enforcement, theft, and reckless driving.