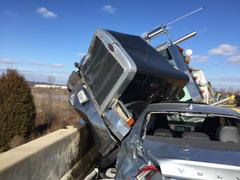 State police say two troopers were hurt when a semitrailer ran into the rear of their stopped squad car on Interstate 69 near Evansville.
Sergeant Todd Ringle says the troopers, Kylen Compton and Taylor Fox suffered minor injuries from the crash about 9 a.m. Wednesday and were treated and released from an Evansville hospital.
Ringle says the troopers were inside their car with its emergency lights on, diverting traffic from a previous crash when the semi, a 2007 Peterbilt Tractor-Trailer, driven by 67 year old Gary Pride of Otwell,  ran into the back of the cruiser, turned onto its side and hit another car.  That vehicle, a 2013 Volvo was driven by 45-year-old JoAnn Cochran of Petersburg.  She was not injured.   The semi's load of soybeans was spilled across the southbound lanes of the highway about 10 miles north of Evansville.
Ringle says Pride  was ticketed for failing to yield to a stationary emergency vehicle.