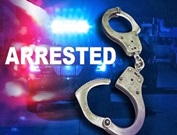 -Vincennes police were summoned to Wal Mart at 1:30 this morning for a shoplifting investigation. Arrested was 49-year-old Sheila Goeppner of Vincennse charged with felony theft and a misdemeanor count of trespassing.
-At 11:40 last night Vincennes police were called to to Bulding 8 at Autumn Ridge Lane and arrested Noah M. Primus.  He's charged with minor consuming. Also arrested in the investigation was Terra L. Evans charged with furnishing alcohol to a minor.
-Two people were arrested at a Vincennes business Thursday afternoon on shoplifting charges. Vincennes Police were called to Kids Station around 3:30 pm Thursday. Officers arrested 27-year-old Rikki Henderson of Indianapolis and 32-year-old Brandi Booker of Vincennes. In addition to the shoplifting charge, Henderson is facing additional charges of possession of a schedule four drug and possession of marijuana. Booker is also facing one count of possession of marijuana.
Vincennes Police arrested a local man on a Knox County warrant Thursday afternoon. Officers went to 905 Nixon Square and arrested 39-year-old Jeremy Jones he was wanted on a warrant for invasion of privacy. Jones was taken to the Knox County Jail without incident.
>>>>>
41-year-old Shane Andrew Turner was arrested by Vincennes Police on an outstanding warrant. Police located Turner at 6th & Vigo Streets around 5 pm Thursday. He was wanted on a probation violation for dealing methamphetamine. Police also charged Turner with possession of paraphernailia. He was booked into the Knox County Jail.
>>>>>
Vincennes Police arrested a man following a traffic stop in the 14-hundred block of Ritterskamp around 8:40 pm Thursday. Andrew Yochum was charged with being a habitual traffic offender and taken to the Knox County Jail.