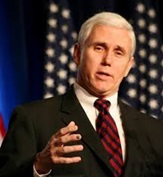 Governor Mike Pence's opposition to Syrian refugees resettling in Indiana puts him in a delicate spot trying to balance compassion and security.
Pence is an Evangelical Christian who identifies himself as a man of faith. But his posture is at odds with the Roman Catholic Archdiocese of Indianapolis, which settled a Syrian family in Indiana last week over his objections.
Indianapolis Archbishop Joseph Tobin says the resettlement of Syrians in Indiana is "an essential part of our identity as Catholic Christians."
Pence says he respects the church's charitable acts. But he says his faith guided him to keep his oath of office by protecting people's safety.
Pence has joined 30 other governors trying to block the resettlement of Syrian refugees in the wake of the deadly attacks in Paris. Opponents say the risk of danger is extremely low.