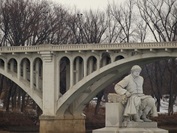 Officials expect work to begin next spring on an overhaul of a Wabash River bridge that could close it for up to six months.
The Indiana Department of Transportation project will make many maintenance repairs to the Lincoln Memorial Bridge that crosses theriver at Vincennes and opened in 1932.
Department spokesman Jason Tiller says that painting the underside of the bridge and work on its supports has already started.
The contractor is scheduled to close the bridge next March for work including new pavement, resealing joints and cleaning the stone facade on the span adjacent to the George Rogers Clark National Memorial.
The bridge closure will likely shift traffic between Vincennes and Lawrenceville, Illinois, to the U.S. 50 bridge just north of Vincennes.