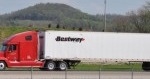 Floyd Jameson, Jr., 67, of Vincennes, passed away on November 26, 2015, at his home.
Floyd had worked as a truck driver for Bestway Trucking, and had served in the US Army.
Born December 20, 1947, in Antlers, OK, he was the son of Floyd and Flora Juanita (Griffin) Jameson. His father and two brothers preceded.
Surviving is his wife, Deb Jameson; his mother, Juanita Evans; step-children, Bre Friar and Ryan Wall; three grandchildren; sisters, Mildred Anthony, Faye Allison, and Emma Baker; and his brothers, Billy Griffin, Wesley Jameson, William Jameson, and Leonard Jameson.
The family will receive friends at their home, located at 18 Benjamin Lane, Lot #18, Vincennes, IN, on Sunday, from 2:00 – 6:00.
Online condolences may be sent to the family through goodwinfamilyfh.com.