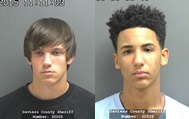 Washington Police have released details of the two attempted armed robbery arrests were reported to you Friday.
In a news release, the department reports that the incident happened almost a month ago on Sunday October 11th.
A woman had been knocked down during a suspected attempted robbery at the Washington Wal Mart.  The unnamed woman sustained injuries in the incident.
After an investigation, warrants were issued and 18-year-old Jacob Kunz and 18-year-old Nicholas White were both arrested  this week for attempted robbery resulting in bodily injury.
Washington Police were assisted in their investigation by the US Marshal Task Force, State Police, Bloomington Police, the Vanderburgh County Sheriff's Department and Public Safety Personnel at USI in Evansville.