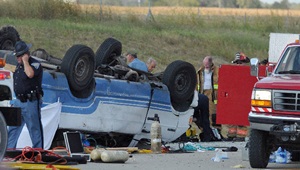 18 felony charges have been filed against the driver of the van that flipped over in Gibson County September 24th   and resulted in the deaths of two Washington residents and the injury of several others.
30-year-old Robert Allen was driving the van with Haitian passengers from Washington to the Ameriqual plant in Evansville when a tire blew while traveling on I69 in Gibson County.
Gibson County Prosecutor Robert Krieg filed the charges which including operating while intoxicated causing death and bodily injury, and criminal recklessness committed by aggressive driving resulting in death and bodily injury. He's also facing misdemeanor counts of having no commercial driver's license, speeding, following too close and unsafe lane changes.
Witnesses have said they saw Allen driving over 75 miles an hour and weaving in and out of traffic.
Authorities say Allen was under the influence of marijuana at the time of the crash.
The 16 passenger van was carrying 23 people.  Some were riding on wooden benches nailed to the floor of the van.  State police said all four tires on the van were made in 2004 and had dry rot.