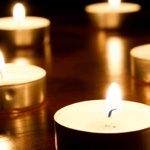 Norma Eileen Chattin, 94,of Decker Chapel, transitioned from this life on Tuesday, November 3, 2015 at 1:05 am at Fox Ridge Manor under hospice care with her family at her side.  Her life was one of quiet devotion to her family, her faith, her many friends and her home and farm. She battled cancer four times in her life and won, demonstrating a remarkable level of grace and resiliency. Unfortunately, her final bout with cancer was one she could not overcome.
Eileen was a farm wife, a helpmate, and a homemaker in every sense of the word, she enjoyed cooking, gardening, sewing, pets and playing the organ. In her later years she became an avid reader.  Her years at Fox Ridge were among the happiest of her life and she will be remembered and missed by many there for her positive disposition, her gratitude and her sweet heart.
She was born December 30, 1920 in Knox County to Manuel and Mina (Curtis) Lucas.
Eileen worked as a bookkeeper for Parker and Sons and also at Security Bank. She was a member of the First United Methodist Church and also involved in the Decker Chapel United Methodist Church Women's Society and had also taught
Sunday
school at the Emison United Methodist Church.
Surviving are her children, Rex (Vickie) Chattin of Oaktown, Ray (Susan) Chattin of Decker; a sister, Alma Chattin of Bicknell; four grandchildren, Michelle (Trent) Tonner, Jarrod (Kristin) Chattin, Graham Chattin, and Carrie (Andy) Blome; and 7 great grandchildren.
She was preceded in death by her husband, Clifford Chattin, whom she married July 11, 1944 and died on October 19, 2007; a son, Tim Chattin; and a grandson, Jason Chattin.
Funeral services will be held at
11:00 am
Saturday November 7, 2015 at Goodwin Funeral Home with Rev. Paul Wagner officiating. Burial will follow in the Memorial Park Cemetery.  Visitation will be from
4-8 pm
Friday
at the funeral home. Memorial contributions may be made to Relay for Life.  Online condolences may be made at
www.goodwinfamilyfh.com