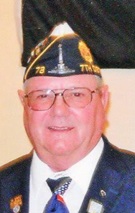 Kenneth R. Ellis, 69, of Wheatland, passed away at
3:37 am
on
Monday November 3, 2015
at Good Samaritan Hospital.
He was born May 10, 1946 in Vincennes to Waldo and Ruth (Bauer) Ellis.
Kenny farmed his entire life and was a member of the First Christian Church.  He belonged to the American Legion, VFW, of which he was a lifetime member of both, Bruceville Rod and Gun Club, and the Moose.
He participated in Walk America and Relay for Life and enjoyed spot shooting, hunting, fishing, and watching all animals, including his favorite, hummingbirds.
Kenny served in Vietnam in the 9th Infantry Division of the Army as a platoon leader and received the Purple Heart during the Tet Offensive. Being active in the American Legion, he was currently serving as Membership Chairman for the 7th district. He has served as Past Commander for Vincennes Post 73 as well as Vice Commander for the 7th district along with various other committees such as the Post Board and Executive Board.
Surviving is his wife, Rita (Williams) Ellis, whom he married August 17, 1974; two daughters, Cindy (Young) Stafford of Vincennes, and Melanie Ellis of Merom; his brother, Don Ellis of Owensboro, KY; and his two grandsons, Daniel and Jacob Stafford.
A Celebration of Kenny's Life will be held at
10:30 am
Friday, November 6, 2015
at Goodwin Funeral Home. Visitation will be from 4-8 pm
Thursday
. Burial will take place at a later date.
Memorial contributions may be made to Indiana American Legion Department Commanders Special Fund (Child Welfare). Online condolences may be made at
www.goodwinfamilyfh.com